Tempted Knights: Rumors of War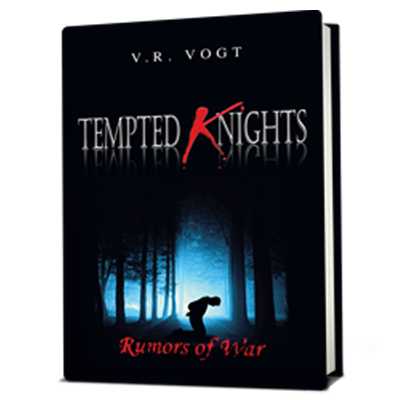 First came the Knights, then came the Wiccannians, and soon comes another powerful breed of warriors, as Author V. R. Vogt brings in the Lycans in Rumors of War, the third installment in the Tempted Knights series.
When opposites attract, Angelo and Whitney are the perfect pair and together they have overcome many challenges. Angelo is Whitney's protector and she is his strength and her unconditional love gives him faith to deal with his own personal demons. They've come to rely on close friends for help, such as two old favorite characters from the first two books, Donnie Lance and Yolanda Ramos. Best friends and soul mates for life, it hasn't always been easy for Donnie and Yolanda either, and now their past has come back to hurt them. But they're not the only ones in danger; the entire Alliance is facing being wiped out by bloodthirsty vampires.
With a war raging between vampires and Knights dangerously close, allegiances will be tested. For centuries, the Lycans have pledged their support to the Alliance, but will it remain now that Angelo, king of the Alliance is a vampire they would naturally love to kill?
Readers will learn what lies behind the past of Donnie and Yolanda, and who is truly friend or foe as the war rages on with the fate of humankind hanging in the balance.
Will the Lycans prove to be loyal comrades? Can the Alliance keep the vampires at bay and unite their allies to win the war? Find out what happens soon in Rumors of War.